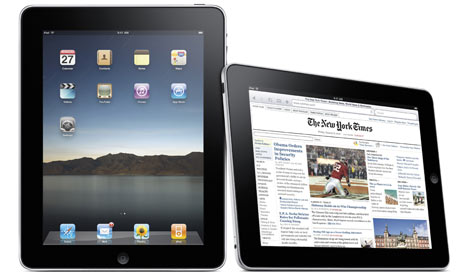 Apple has finally released the much-coveted iPad (which was also, interestingly, rumoured to be called the "iSlate" - but I'll get to that in a moment), and the tech world has been buzzing with opinions and news about this latest iGadget.
There have even been
startling reports
that the Big Man, Mr Jobs himself, may be stepping down from Apple CEO soon, and that the iPad event may be his penultimate showpiece. But of course, I don't support this theory, as, the way I see it, the iPad is only the beginning.
To understand how this new product is going to play out, we must look back into the last decade, at the dawn of the iPod-era. The release of the popular music player, and its companion service iTunes, led to Apple world domination. And the Cupertino giant was able to achieve this by creating a product that re-invented cool: the iPod made the ugly mp3 player desirable, and we must acknowledge iTunes in part for creating a platform upon which the iPod rode to being successful.
So the iPad, the new cool thing from the fruity company, will certainly make waves when it's released in a few months, as people begin to use the device and see for themselves, first hand, the potential of the tablet.
But there's a few problems that I see Apple having with this device: number one, its name. iPad looks very similar to "iPod", with just one letter changed. This can be a potential technical error that some customers may make when researching this purchase. iSlate, in my opinion, was a cooler name.
Then there's the issue of the device itself. Steve Jobs made a point of first identifying the need for a market for this device, clearly showing its place within the Apple product ranks (between the iPhone and MacBook), and stating that iPad will fill the need for wanting a more powerful device to browse the Internet, yet portable enough to be used almost anywhere, in situations that the traditional laptop may not be viable.
But to most, the iPad just seems like a larger iPod touch, a device with a better interface that just happens to also be able to read books, and on select models, even make VOiP calls over the 3G network.
But we'll only know the fate of the iPad once it's out in the wild, in a few months.
So here's a question to you: will you be buying an iPad? And how would you envision yourself using this tablet-esque computer? Drop us a line in the comments below.