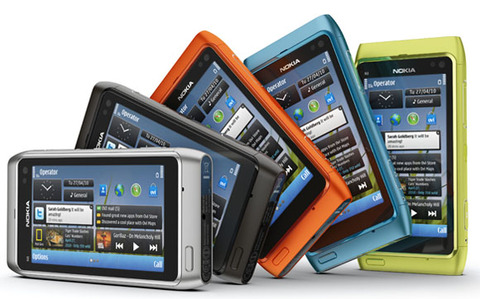 Ah, Nokia. Thou art an enigma. After losing face in the mobile marketshare wars, in their own turf, to upstarts in the guise of Apple and Google, Nokia has finally unleashed their first line of attack, in the stylish form of the new Nokia N8.
It's an ultra-stylish new Nokia mobile in the fashionable form factor of a full-screen multitouch display. It's got a 12 (!) megapixel camera, perfect for those HD-seeking moments. It even allows you to edit the video on-device,
a la
iPhone 3GS. Furthermore, there's home-screen support for updating your favourite social networks, like Facebook and Twitter.
But it doesn't have just brains; no, Nokia has decided that the current software that powers their devices, Symbian S60, is in need of some serious makeover. Thus, enter
Symbian 3,
their all-new, fresh mobile OS armed and ready for any onslaughts Cupertino, Redmond or the Googleplex throw at it. If you haven't yet heard of it,
here's a video
Nokia posted earlier this year about their plans for this new OS.
Nokia seems to be playing their cards right this time, by focussing on making the operating system the focus, and not the device. This is key to survival in the mobile space, which has seen exponential growth and a surge in application production to specific platforms, which the Finnish mobile giant has not been able to cope with,
The N8 moniker seems to play on their media-centric line of smartphones, the Nseries, and perhaps is
targeted at this line. If so, we can be sure to see a huge overhaul of the popular Nseries line.
Success with the N97 also appears to have great influence in the design decisions of the N8 and Symbian 3. The N97 introduced Nokia's widget-based homescreen, an intuitive and useful feature that can be used to quickly access features such as updating your status to social networking sites.
The N8 is expected to be released in quarter 3 this year.
What do you think of the N8? Will you be in line to buy one, or will you choose to wait for later Symbian 3 devices? Let us know in the comments section!